(Spanish is a must to speak)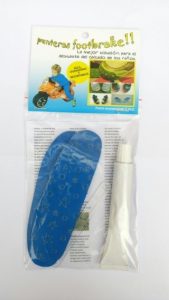 TECHNICAL FEATURES: 
WIDTH: 1.5 mm
ABRASIVENESS INDEX: 170/180
SIZE: large: 12×3.5 cm.
Small:10.5×3 cm.
We currently have three designs available, although we can tailor designs under customer requirements upon a minimum order of 30 large kits, or 42 small kits in the desired colour, or 70 kits with a combination of large and small-sized models.
Toecaps can also be designed in the shape desired by the client, upon a minimum order for units that can be manufactured using a minimum section of 65×42 cm of material, depending on the size of the item ordered.
"FOOTBRAKE TOECAPS" are patented and are a registered trademark, guaranteeing the product's exclusivity, with customized designs available. We have worldwide exclusivity until February 2018, extended in Spain until February 2027.
Packaging can also be personalized, and the possibility of adapting the image to a dealer's brand can also be explored.
In short, we are prepared to study all possibilities in detail, respecting, of course, the rights and preferences of every client.
If you want to become a dealer, please fill out this form and we will contact you to offer personalized conditions: